News - 30/08/2001
By Stephen Swann
Stuart Wallace Accident...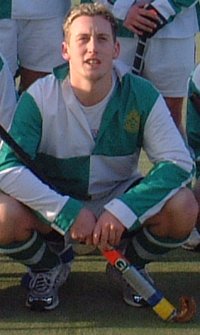 Stuart Wallace, East Antrim 1st XI player, went to the United States at the start of the summer to work with young people in a camp. Early in his stay, while working with a GROUP undertaking a team exercise, Stuart had an awkward fall resulting in massive trauma to his upper spine.

Taken to a hospital near Detroit, Illinois, Stuart's condition left him in intensive care for some time. With no movement or feeling FROM the neck down, Stuart was treated until, when strong enough, he was transferred by air ambulance to Belfast, going to the Royal Victoria Hospital.

After a period, a bed was made available in Musgrave Park Hospital, where Stuart has regained, bit by bit, some of the movement in his arms, legs and upper body. This improvement has been encouraging, and the coming week sees an important phase of the recovery process when Stuart returns to the Royal for the "halo", which immobilizes his head and neck, to be removed. At that time, a series of tests will be carried out to establish the most appropriate treatment.

During his hospitalization Stuart has remained bright and cheerful. He has stated his determination to return to the US for the reunion of summer camp staff early next year.

He is determined to recover completely though realizes it may be some time before he pulls on the East Antrim shirt once more. However, Stuart has declared that he hopes to become more involved in umpiring, a task he has very ably undertaken in the past, and is a qualified junior umpire. It is a little ironic though that he awaits a letter FROM the Ulster Branch Disciplinary Committee requiring his appearance for a red-card offence last season! What's that saying about poachers and gamekeepers?

Anyway, everyone at the club and hockey in general wishes Stuart a speedy and complete recovery. We look forward to seeing him at one of the matches very soon and will keep you up to date on his progress via the club's website.